ABOUT US
Our founder lost both legs in a car accident in 1953. But he wasn't afraid of the car and wanted to drive it again to get out into society. He modified his car so that he could drive. Then, when it became known to many Japanese physically challenged people, he thought that it was necessary to learn the skills to drive safely, so he created the driving schools.
We carry on his philosophy by supporting both cars and people through the design and manufacture of devices for their safe, comfortable, and easy movement.
Many of our products are designed for each car model. We believe that our policy is necessary to keep the driver safe and to maximize the capabilities of the car.
HAND CONTROL DEVICE
FUJICON HAND COTROL DEVICE is designed for drivers without use of both legs. Pushing the control lever forward activates the brake, pulling it back activates the accelerator.Naturally, you can drive the car as usual if it is attached.
Only for use with automatic cars.
SC-B : Horizontal control lever

Using the horizontal lever, the driver can set the space around the driver seat.
And they can choose left or right side easier.

Caution!
SC-B can't be installed in cars with knee air bag.
No holes need to be drilled, but part of the cover will be cut.

FC-B : Vertical control lever

FC-B control lever will support the drivers' body because its base is on the floor and designed to withstand lateral forces.

Caution!
To stabilize this, drilling of some holes may be required.
LEFT ACCELERATOR PEDAL
FUJICON LEFT ACCELERATOR PEDAL makes it possible for people who use only their left foot.
Naturally, you can drive the car as usual if it is attached.Only for use with automatic cars.
LA-1: designed for each car model

It is designed for each car model, so it is made to the optimum dimensions and can be mounted with minimal processing. It is not necessary to make any holes when LA-1 is installed.
The cover is Installed in front of right accelerator to prevent accidental operation. This cover plate is detachable.

LA-2: general-purpose model

LA-2 is placed on the car floor. You'll need to make some holes in the floor to install it, but it's suitable for almost any car model.
Main body can be easily attached and detached from the base plate.
STEERING GRIP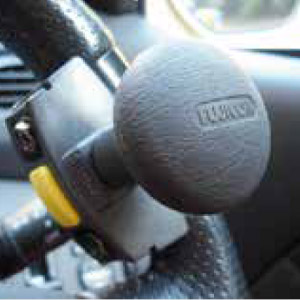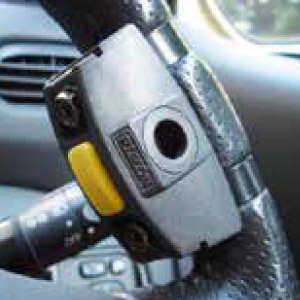 SG-12
STEERING GRIP is used to turn the handle safely and conveniently with one hand.
SG-12 grip is easy to attach and remove, so it doesn't get in the way for drivers who don't use it.
Various grip shapes are available according to the driver's hand and grip strength.
SG-12 Leather type

SG-2

RW-1

SG-3

SG-4

SG-5

SG-6

SG-7

ORDER TYPE